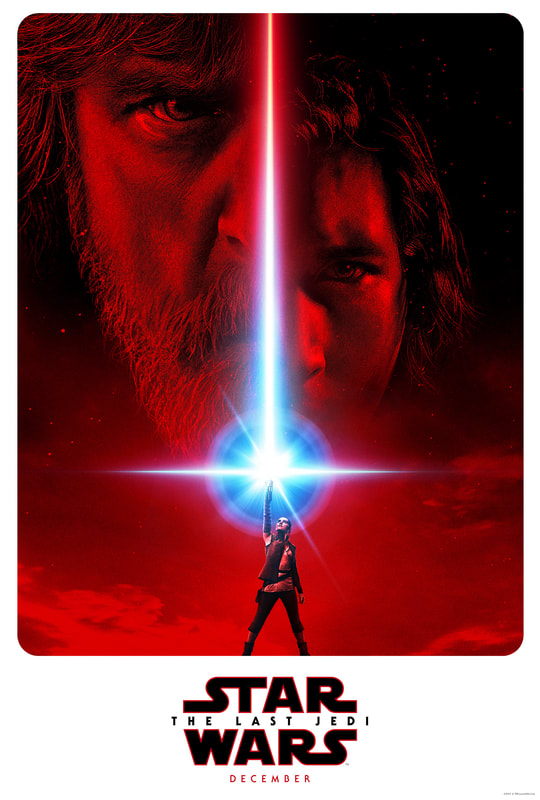 ​
TL;DR review - Good visuals and some good performances is all that save The Last Jedi from being an outright bad movie.

Ah Star Wars, why can't I quit you? You keep abusing me and making me embarrassed to be a fan. The next/last movie in the Kylo/Rey trilogy is going to have to work very hard not to get tossed into the same mental rubbish bin I store the Prequels.

What worked:

I like some of the performances quite a bit. I don't like Luke's characterization and story turn, but Mark Hamill delivered the best performance in the film. He's become an actor in the past 30 years and it shows on the screen here, doing a part he clearly doesn't want to do.

I liked Kylo Ren, actually. I felt his need and rage. Sure, he's emo but that's his character, he's playing it appropriately. Not every villain is a tower of self-regard. He feels that he was forced to be evil, I think. And he's trying to embrace that, even if he is...tempted by the light. And by Rey. And what he wants is something that's easy to understand: he wants respect. And if he can't get that, fear.

Rey was...well, she's a superhero at this point. Overpowered as fuck. But I watch a lot of superhero movies so for some reason, that didn't bother me. It should have. It did in The Force Awakens. But in this one, I was more drawn to her temptation of Kylo. He's someone who won't comply with her demands. And he's the first, only person, to try to reach out to her. To talk to HER, not her power or her destiny, but her as a person. It helps that Daisy Ridley is charismatic. She can't act in a wide range, she has one or two 'moods' at most. But she draws the eye and after Rogue One, I can see how important that is.

I actually like the 'fake' codebreaker, DJ, played by Benicio Del Toro. He had a very grounded and realistic view of the universe. I like him and I liked the advice he gave.

BB8 was fine as the cute toy/comic relief. Porgs were not/are not needed.

The Plot...and what didn't work (Spoilers...it's the plot):

Also Spoilers. The humor doesn't work. I laughed once, when Snoke hit Rey on the back of her head. That was it. BB8 was as good as the 'humor' got and that just got a smile from me, no laughs.

Trying to sum up the plot is pretty simple because there's not a lot that actually happens from a story-viewpoint. You will spend two and a half hours watching a movie that should have been 100 minutes, tops. But in the end, almost nothing has changed from the end of The Force Awakens. Almost no characters change, grow or learn anything. We get awkward self-insert fan fic characters added, some new toys are introduced but the universe and the plot advance at a snail's crawl. And what changes do happen to the universe, do not favor the 'Resistance', although they do still have main character plot armor.

Ok, let me try again: Rey has found Luke Skywalker but he's not interested in training Rey or helping 'The Resistance'*. She begs and pleads and finally he gives her three lessons. Then he refused to teach her anything more when she shows a blind excitement about diving into the Dark Side of the Force.** Meanwhile, Kylo Ren is being humiliated by Supreme Commander Snoke. Kylo is filled with rage and need and at this time of profound isolation, he finds himself in frequent mental contact with Rey. The two of them seem to have a bond, more than that, they seem to have a connection, even an attraction for each other. Rey finally assaults Luke and when he kicks her off his island, she runs toward Kylo Ren, hoping to redeem him(?), it's unclear. But she does meet Kylo and confront Snoke with him. And finally she rejoins the two dozen or so surviving Resistance members out of the thousands who were fleeing the first order.

Hm?

Oh right, there's actually two stories here, three really. But only Rey and Kylo's have any real story or plot significance. But out of a sense of completeness...The First Order after blowing up three or four planets is seizing military control over the galaxy. We can only assume that they succeed, since they have all their incompetent people in one General Hux-shaped basket who is sent off to try to kill the Resistance before they can evacuate from their base. Since Hux is terrible at everything, he can't quite manage this despite catching the Resistance in mid-evacuation and despite having some mysterious tracking device that allows him to follow them through hyperspace***. What we get is a very slow motion stern chase where the First Order is picking off Resistance ships as they run out fuel.
From here, we have two minor plots, one of which has some character development and one that has Finn and a huge waste of screentime.
Minor plot #1 has us following Poe Dameron, who helps blow up a Dreadnaught (an even bigger big ship, not that we are given a sense of its scale ala Star Wars). However, surprising only idiots who run the Resistance, there are severe casualties among the fighter and 'bombers'. Poe gets slapped, demoted, insulted...but he doesn't give up. He keeps trying to fight the First Order. However, his superiors refuse to tell them their plans. Partly due to 'none of your damn business' and partly because they barely have a plan. And what plan they do have....wouldn't have been compromised by telling people what it is. Which makes minor plot #1 even more frustrating and confusing. Poe finally leads a mutiny...which doesn't go well, of course. Leading him to be stunned as well as slapped, insulted, demoted, abused and kept in the dark. However, Poe does learn one thing apart from women making lousy commanders, he learns that sometimes you do have to cut your losses and not attempt break-neck attacks that will get everyone EXCEPT you killed. He learns some responsibility. Congrats Poe, you're the only person who gets a character arc and learns anything.

Minor plot #2 involve Finn and...sigh...a new fan fiction author self-insert named Rose Tico. Finn wakes up from his injury and immediately tries to run away. He gets captured and stunned by Rose, a self-described tech who 'squats behind pipes all day'...so she may actually be a plumber. But we'll give her the benefit of the doubt and assume she has some useful maintenance role. She has a case of Finn-Hero-Worship...for unknown reasons. Finn accomplished nothing but surviving, sorta, in the last movie. Which seems to be enough for Rose. They decide that they have a plan to stop the First Order from tracking the Resistance. And that plan is....big breath here....
They are going to go to a casino planet and find this master code breaker that the learn about from a skype call with Maz Kanata. They then intend to fly to the flagship of the First Order, sneak in, find the tracking device and insert a short delay in the tracking system to allow the Resistance to jump to safety without the First Order knowing that their tracking has been compromised. And then, we assume, they intend to sneak off the flagship...which is shooting at Resistance fleet...and fly back to the Resistance fleet...without getting shot down or discovered...and jump out with them.

Savor the stupidity in that plan. It's almost a monument to bad ideas. And, giving some credit to writer/director Rian Johnson, it doesn't work. Finn and Rose fuck up in nearly every way it is possible to fuck up without actually having to deal with the consequences of their bad ideas. They fail and fail and fail. Yet, they survive. Shame.

Minor Plots 1 and 2 rejoin as the Resistance tries to take shelter in an old abandoned Rebel base only to get most of the refugees killed trying to leave the Resistance flagship. They are cornered by Kylo Ren and the First Order almost immediately on the surface. Most of the Resistance is apparently killed (off-camera, as most important or dramatic things are done in this movie) but a few dozen escape by following space foxes to a unmapped hole out, which by sheer luck has Rey waiting on the other side to magically lift the blocking boulders and to fly away with the survivors in the Millennium Falcon, which seems to be the very last starship left to the Resistance after losing all the rest in combat.

Oh and Kylo Ren faces an astral projection of Luke Skywalker, who's stalling for time to let the heroes follow the foxed. Oh and he dies from the effort.

Yea? The End?

That's the plot. And it's terrible. It has one core good story, dealing with Rey and Kylo who are both spurned by those they seek approval from. They reach out to each other, seem to need each other, even....balance?...each other. But they are very different people with very different outlooks on what they want. Not that Rey knows what she wants. At all. About anything.

The rest of the run time is spent in space battles and running around and trying dumb things. Now the dumb things mostly don't work, to the movie's credit. Sorta. But that just means Rian Johnson really is just wasting our time. Why not spend this story and run time and the millions of dollars on good characters, spending time together, trying good ideas that may or may not work when they confront a competent enemy???
Why this fuckery? This failure? These new, terrible characters? What is so infuriating about all this is that it's all fixable. Preventable. And even worse is that the decisions that are made in this movie, most of the interesting and heroic stuff happens OFF CAMERA.

How is the First Order tracking the Resistance? No idea, Snoke is told about it off camera.
How does Rey escape from Snoke's flagship? No idea, it happens off camera.
How does Finn and Rose survive a massive explosion that kills hundreds of other people all around them at the moment that they're about to be executed? No idea, it happens off camera.
How do Finn and Rose escape from Snoke's flagship? No idea, it happens off camera.
How do Finn and Rose know how to even pilot a starship? No idea, again, their ability to fly a starship is just glossed over.
How does Rose know how to undo the jamming signal when she's just a maintenance tech?
How does Finn know the layout of Snoke's flagship when he was a janitor (supposedly) on Starkiller base?
How does Finn know anything about high level encryption?
Why is a Resistance Admiral wearing a ball gown the entire movie?
How many people died on the abandoned Rebel base?
How many survived?
What was that cool mosaic design in the cave? Can we get a look at it on camera?

This movie is almost aggressively flipping off the audience and the fans of the series. And I haven't even gotten really into the mass of fail that is Rose Tico.
So let's do that!

Rose Tico is a chubby Asian woman who has some of the most cringe-worthy dialog this side of Tumblr. She's been described as this series' Jar-Jar Binks. And, yes, she's that bad. She is awkwardly made a main character out of nowhere, Finn comes across her as he's trying to run away. She's crying over her dead sister, which is supposed to make us feel sorry for her I guess. Her dead sister, Paige Tico, heroically died bombing the First Order Dreadnaught.**** She catches Finn trying to run away, while gushing all over him. Naturally, she gets the drop on him and stuns him unconscious. But when she's taking him to the brig, sensibly for him trying to desert in the face of the enemy (a shooting offense, even today, in theory), he tells her about the First Order being able to track the Resistance. And she seems to immediately know how they are doing it and how to stop it.

Savor that stupidity too. It's like a fine cheese, stinky and soft and filled with mold.

So Rose and Finn decide they're going to go find a code breaker that can get them into the secure room where the tracking device is kept. Where ROSE apparently is going to disable/jinx the tracking system so the Resistance fleet can escape. This code breaker is on a casino planet where we get the privilege of listening to her make assumptions about who the people there are, how they made their money, their moral inferiority to her, Rose Tico and how terrible this planet full of people enjoying themselves is. It is every bit as shrill and unenjoyable as it sounds. She continues to be a scowly, lecturing killjoy. And at near the end of the movie, when Finn is about to sacrifice himself to protect the Resistance...the first time he actually would make a difference in any of these movies...Rose knocks his ship aside and prevents it. But not before heavily implying that she loves Finn, kissing him...and conveniently 'falling unconscious' so she doesn't have to see the result of her unasked for kiss. (Isn't that sexual assault under the current rules? Finn sure didn't ask to be kissed and didn't offer affirmative consent. I think in California, that's a crime now)

Rose is also the bestower of such wisdom as 'We won't win by fighting those we hate, but by saving those we love'. Which, in a movie called Star WARS, in the middle of a fight against people who have/are/will be killing your friends might be the stupidest thing said on film.

Rose is terrible. Her acting is bad, her tone is snarky and passive-agressive when she's not being actively aggressive against people who haven't done a damn thing to her but exist. She has vague, undefined abilities and skills that somehow are plot critical and she gets to kiss the handsome boy at the end, tee hee. She feels like someone from a BAD fan fiction and I have no idea how she ended up in this movie.

But, bad as Rose is, it's not the most damning thing about this movie. What's damning is...all the missed opportunities. Rian Johnson is credited as the writer and the director. There MUST have been other writers or direction given to him from either Kathleen Kennedy or someone at Disney. There are too many strange fingerprints on this movie for it to me one writer's vision. Too many storytelling failures that make no sense coming from the director of 'Brick', which is actually a good modern noir movie.
We get cheated. We, the audience, don't get to see our heroes doing smart things. We don't get to see them being competent. They don't win by skill or by having a good plan, they don't even win by luck. They succeed because page 27 says that they are now in location X. We don't see them try, we just see them fail AND not suffer the consequences of that failure. We don't see them grow and learn. The one exception is Poe. No one else is taking on any new responsibilities or showing new resolve or even regret.

We don't see the rest of Poe's squadron in action, we don't get to know who they are, just that they died. Off Camera. We're told of the results of Poe's recklessness, but we don't feel it. No one with a speaking role dies in the opening fight. His demotion is meaningless, his mutiny is meaningless, he isn't left to suffer and wait in the brig while his friends fight and die.

I feel like I should write another thousand words about Luke and how he got cheated by this story too. We see Luke ready to kill his apprentice Kylo/Ben. Seriously, he goes that far ,but we don't see what he sees. We don't get a scene of what Luke saw inside Kylo's mind or in his future. We're told, over and over again, about 'I've seen your parents' or 'I see your future'. But we don't. Film is a fucking visual medium and we don't SEE any of this stuff.

We don't see Rey deciding to leave Kylo alive. We don't see her escape a burning starship. We don't see her DOING much of anything except levitating some bad CGI rocks. Oh and beating three trained killers at once.

But, you know, I don't even care about her being OP AF. Rey being a Mary Sue is a trope itself at this point. In this movie, she's a superhero. She's a Marvel character, she might as well be one of the Guardians of the Galaxy and be paling around with Drax. She's so broken from anything connected to reality that I'm done trying to make her fit in with anything realistic.

What we do see, hazily, is that Rey doesn't feel connected to anyone or anything. This is ironic since, being so strong in the Force, she should in theory BE connected to everything and everyone. But she isn't. She's...incomplete.

So is Kylo Ren. He has a huge amount of power (The scene in the Force Awakens when he freezes a blaster bolt in mid-air might be the single coolest thing I've ever seen in a movie) but he isn't given respect. He isn't feared and we wants to be. He's missing someone to respect him and give him their regard. Someone like...Rey?

That attraction and tension is the one, thin thread that keeps the Force Awakens from being an out-and-out bad movie.

This is supposed to be the 'low point' in the trilogy, but we don't get that from the characters. Despite having lost all their ships, most of their people, their only Jedi, everyone...EVERYONE is all perky and smug and self-righteous. What low point? Nobody is low.

Oh there were other good things in the movie was well, as I mentioned above but the movie doesn't work, logically. If it works at all, it has to work emotionally. Unfortunately, we don't get a resolution there either. And if this movie is any guide, we won't get any in the next movie.

Summary:

I can't recommend The Last Jedi, honestly. If you CAN skip it, and some of us can't, you're better off watching a Marvel movie. If you have to watch it, try to find some of the good things to focus on and don't think about the plot.

*I have to stop putting quotes around the 'Resistance' but the question remains: who are they resisting? The Republic seems to be in power at the beginning of the Force Awakens. Are they a non-government organization waging war outside the law? Are they resisting the Republic? The Rebels won at the end of the Return of the Jedi, right? So why is Leia still flying around getting people killed?

** Not that she acts at all dark-sidey. Daisy Ridley seems incapable of doing anything but playing spunky and sincere. So that undercuts the 'dark side' business, as does painless and danger-free interactions with the dark side. Wasted opportunity, one of many, many.

*** Missed opportunity #2 of many, many...we never find out what this tracking device is or how it works. It would seem logical that there is some physical device on the Resistance flagship. Or maybe the First Order's tech is so good that now any of their ships can 'lock on' and track ships even after they jump to hyperspace. This is never explained and is used only as a plot McGuffin to allow the First Order to keep following the Resistance.

****You know what? Paige Tico would have made a good, new character. We see her to something competent and heroic. There's no reason she couldn't have survived or been rescued, especially considering the other crap that happens in these movies. She could have been a main character working with or sparring with Poe Dameron. Or if the stupid side plots HAD to happen, we at least know that she knows her way around a starship and that she has some military training.