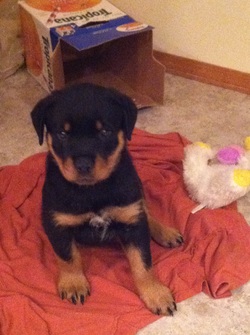 Well. THIS may be a monkey wrench into my writing plans, but it's a welcome one. This is my new pup, Logan Tiberius. He's a Rottie, about 8 weeks old. He love attention...well...needs it, really. But he's adapting to the loss of his littermates pretty well. After the first bonding week, we're going to try to wean him onto being on his own.

Here you see him claiming on of my shirts and a very vanquished Easter Duck. Poor, poor duck. He won't be long for this world, I fear.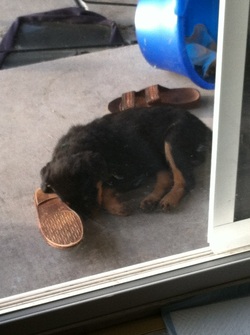 And here is Logan outside, sleeping. I really, really want to get him crate-broken so he can stay inside more. Right now, I'm letting him outside unsupervised only for short durations.

Eventually, I'm hoping to be able to write with him in the room, once he's housebroken and learns 'down, stay' well.